Registration Form Reunion Hotel Information Sailing List
Reunion Tours
New Orleans - 2017
1.) Monday, September 25th - Arrival Day
Today is a day to get checked in to the hotel and renew old acquaintances.
---
2.) Tuesday, September 26th $60, 12:30 PM Departure to National WWII Museum and Mardi Gras World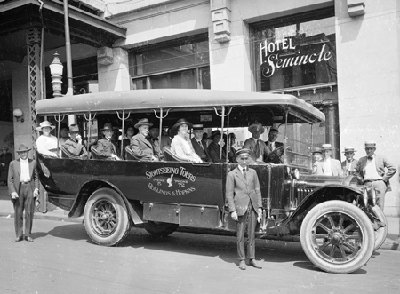 Around noon (exact time to be determined) our luxurious motor coach departs our hotel to whisk us to The National WWII Museum tells the story of the American Experience in the war that changed the world—why it was fought, how it was won, and what it means today—so that all generations will understand the price of freedom and be inspired by what they learn. The museum focuses on the contribution made by the United States to Allied victory in World War II. Founded in 2000, it was later designated by the U.S. Congress as America's official National World War II Museum in 2003. The Museum maintains an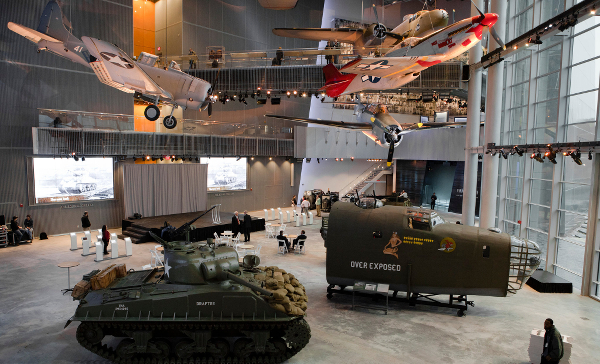 affiliation with the Smithsonian Institution. The Museum opened on June 6, 2000, the 56th anniversary of D-Day, and has since undertaken a large-scale expansion project, which is still ongoing. In addition to the original building, known as the Louisiana Memorial Pavilion, the Museum has since opened the Solomon Victory Theater, the John E. Kushner Restoration Pavilion, the U.S. Freedom Pavilion, the Boeing Center, and the "Road to Berlin" portion of the Campaigns of Courage pavilion. There are further plans to construct what will be called the Liberation Pavilion.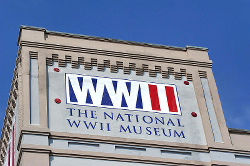 Originally founded in 2000 as the D-Day Museum, Located at the museumThe American Sector Restaurant + Bar serves a unique Victory Garden-to-Table menu, featuring locally grown vegetables and herbs, as well as hand-selected meats, seafood, and dairy products from local and artisanal producers. The menu is inspired by both regional and Southern favorites, such as the Crispy Oyster "BLT," Shrimp and Grits, and all-American standards including the Belle Burger and Chicken Fried Steak. The menu includes Victory Garden salads, gumbo, sandwiches, entrée provisions, and sweets. There is also a Soda Shop located at te museum for lighter fare.
---
After lunch we will visit Mardi Gras World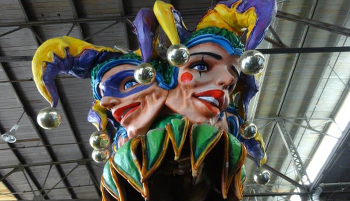 for a tour of a truly unique New Orleans tradition. The early days of what has grown into Kern Studios started with Roy Kern, a local artist-turned-sign-painter who worked his way through the Depression by painting names and signs on the bows of freighters and barges. Roy and his son Blaine built their first Mardi Gras float together on the back on a mule-drawn wagon in 1932. The captain of a Mardi Gras Krewe invited Blaine to design and build floats for his Krewe, and Kern Studios was officially founded in its current form in 1947. One float led to another, and before long Blaine became the city's leading parade designer and builder, working with Rex, Zulu and other legendary krewes.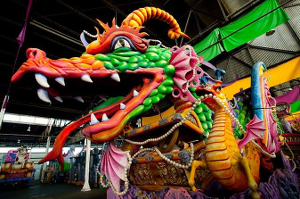 After many requests for private tours of Kern Studios from people wanting a sneak-peak of Mardi Gras, the Kerns decided to open up the working studio to the public. In 1984, Mardi Gras World was created as a tourist attraction to provide visitors a behind-the-scenes look of our work. Widely successful, the attraction draws over 150,000 visitors from all over the world each year. Since 1947, our artists and craftsmen have designed and built the oldest and biggest parade floats and attractions for each Mardi Gras season, with over 500 floats built and decorated each year. When you begin your Mardi Gras World tour, you'll get an overview of the history of Mardi Gras in New Orleans before our guides take you through our float den, where our artists work year-round to build spectacular floats and props.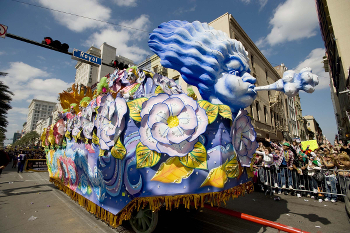 ---
3.) Wednesday, September 27th $70, 8:30 AM Departure to Swamp Tour and Laura Plantation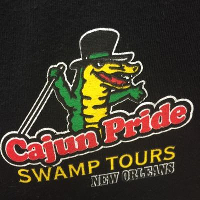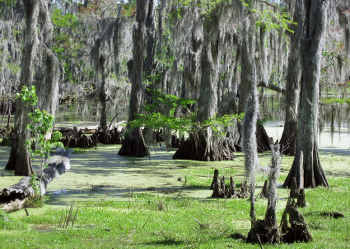 Cajun Pride Swamp Tours is unique in that our privately owned swamp ensures that your narrated tour will not be disturbed by other boats. Our native Cajun Captains are all natural...homegrown in the Bayous of South Louisiana. With accents and humor they will take you back to the early days of Louisiana bayou and swamp explorations through the primitive beauty of the moss-draped cypress trees and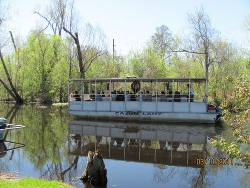 show off the American Alligator and abundant wildlife. Experience up-close our fauna-the inhabitants of our swamp, our flora-the sweet smell of our wild hibiscus rose mallow and marsh mallow plants, and the unique history of the Cajun town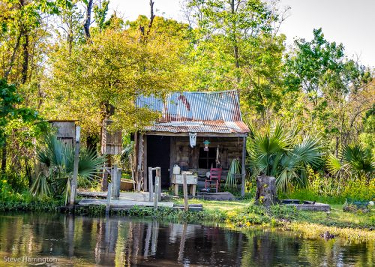 of Frenier within the Manchac Swamp.
For many years people have traveled extensively to locate a unique and exciting adventure exploring Louisiana's back country with its meandering bayous and swamps that you can only experience here - the historical Manchac Swamp. We invite you to join us for an educational journey back to the early days of Louisiana bayou and swamp explorations. As your boat drifts through the waterways, you will learn about the Louisiana Wetlands, the inhabitants of the swamp, particularly the life and habits of the American Alligator, as well as the unique history of the Cajun town of Frenier within the Manchac Swamp.
Swamp creatures, seeing our boats daily, recognize them as part of their normal environment. Unafraid and responsive to their boat captain's call, they peak out from underbrush and between moss-draped trees and shrubs, frequently coming directly to the boat. In the safety and comfort of the boat, you can actually come within a few feet of jumping alligators.
---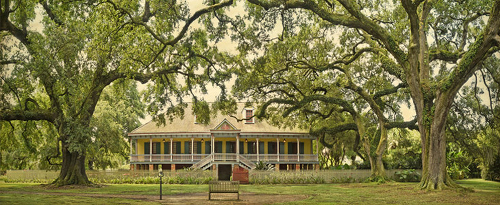 We will tour historic Laura Plantation a sugar plantation built in 1805. Tours are based on The Memoirs of Laura, a detailed account of 200 years of life on this farm. Walk in the footsteps of 4 generations of one Créole family, both free and enslaved. Guillaume Duparc's sugar farming complex was originally called l'habitation Duparc, then, years later, renamed the Laura Plantation. At its largest size, it was approximately 12,000 acres, which included properties amassed over time. In 1804, Duparc, a French naval veteran of the American Revolution, acquired the property. Duparc's new farm was located on prime real estate, on unusually high and cleared ground.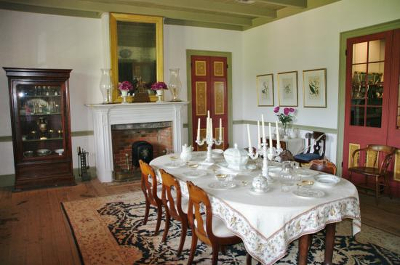 He placed his manor house squarely in the middle of the large Colapissa Indian village that had been on-site for over a century. Construction of Duparc's manor house began in 1804 and completed 11 months later. The work was executed by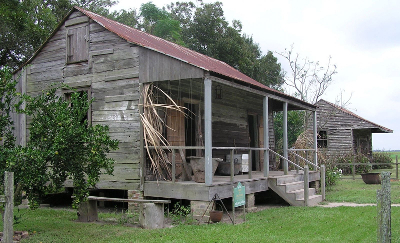 highly-skilled slaves, probably of Senegalese descent, in pre-fabricated methods, typical of early Louisiana vernacular structures. This U-shaped structuretotaled approx.24,000 sq. ft. and had a 2,500 sq. ft. detached kitchen to its rear. At Duparc's death in 1808, the l'habitation consisted of 10 sizable buildings, including quarters for 17 slaves, a barn, warehouses and a small, rudimentary sugar mill. In 1936, Laura Locoul Gore compiled an account of nearly 100 years of life on a Louisiana sugar plantation named after her: "Laura Plantation."
---
4.) Thursday, September 28th
9:00 AM Business meeting for all shipmates. 9:00 AM Ladies Bloody Mary Bingo
5:30 PM Banquet tonight - $45
The rest of the day will be free to explore some of the area's many attractions including:
PT Boat Tour Built in New Orleans by Higgins Industries, the patrol-torpedo (PT) boat PT-305 was a critical asset for the US Navy during World War II, serving in European waters from 1944 to the end of the war. Heavily armed, equipped with advanced technology, uniquely maneuverable, often ingeniously modified, and reliant on cooperation and teamwork, PT boats were a perfect naval expression of the American Spirit at war. Following her wartime service, PT-305 served as a New York tour boat, a fishing charter, and an oyster boat, undergoing modifications along the way: new, less-costly engines; several new paint jobs; and a dramatic reduction in length. When she was acquired by The National WWII Museum, PT-305 was in dry dock in Galveston, Texas, and in serious disrepair. In April 2007, accompanied by Museum curators, PT-305 found her way back to New Orleans, where The National WWII Museum became her home on land until she could be restored to her former glory.