Registration Form Reunion Hotel Information
Reunion Tours
Note: None of our tours will require a passport, however, since Canada is just across the bridge from Detroit some of those attending the reunion may want to visit Canada on their own. There are casinos in Ontario near the border. Please be aware that a US passport is now required to enter Canada and return to the US. If you need a passport or to renew one you should do so early as the passport office does experience a summer rush. Passport application Information Passport renewal information
Michigan - 2015
1.) Monday, September 14th - Arrival Day
Today is a day to get checked in to the hotel and renew old acquaintances.
---
2.) Tuesday, September 15th - $50 - 8:30 AM - Our luxurious motor coach departs our hotel to wisk us to your choice of two of the three attractions for today. You can chose between the Ford assembly plant tour, the Henry Ford Museum or Greenfield Village.
Greenfield Village involves considerably more walking than the other two attractions so those who would prefer less walking should opt for the factory and museum tours. Wheelchairs are available at $4 and electric scooters for $20.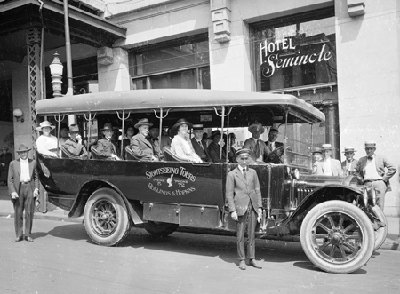 The historic Ford River Rouge assembly plant located in Dearborn, Michigan on the river Rouge, Construction of "The Rouge" began in 1917, and when it was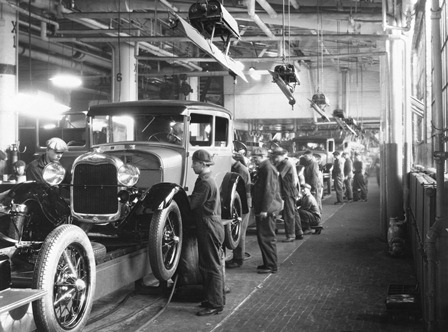 Observation Deck Tour View the ground-breaking living roof from our 80-foot-high Observation Deck.
Assembly Plant Walking Tour - See where the new military grade aluminum-alloy body Ford F-150s are assembled in a lean and flexible manufacturing plant. Visitors will have the opportunity to view the final assembly process from an elevated walkway.
Legacy Gallery - View five historic vehicles made at the Rouge, hop in a new F-150, and visit the Factory Store.
---
Lunch will be on your own at the cafeteria or one of the many eating places in Greenfield Village.
For the afternoon you will have the option of visiting either the Henry Ford Museum or Greenfield Village. Both are considered among the premier museums in the US so be sure to explore their web sites before making your choice!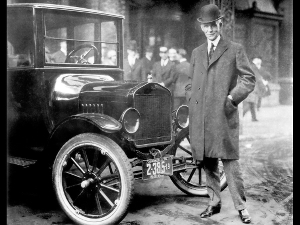 The Henry Ford Museum, a National Historic Landmark, is a sweeping, single-floor space with soaring 40-foot ceilings covering nine acres dedicated to showcasing the finest collection of its kind ever assembled. The collection contains many rare exhibits including John F. Kennedy's presidential limousine, Abraham Lincoln's chair from Ford's Theatre, and the Rosa Parks bus. Henry Ford Museum began as Henry Ford's personal collection of historic objects, which he began collecting as far back as 1906. Today, the 12 acre site is primarily a collection of antique machinery, pop culture items, automobiles, locomotives, aircraft, and other items:
Thomas Edison's alleged last breath in a sealed tube.
The 1961 Lincoln Continental, SS-100-X that President John F. Kennedy was riding in when he was assassinated
The bus on which Rosa Parks was riding to work when she was arrested for refusing to give up her seat, leading to the Montgomery Bus Boycott.
The rocking chair from Ford's Theatre in which President Abraham Lincoln was sitting when he was shot
A model of the nuclear-powered Ford Nucleon automobile
An Oscar Mayer Wienermobile
A working fragment of the original Holiday Inn "Great Sign".
George Washington's camp bed.
A ten-person safety bicycle made in 1896
A collection of several fine 17th and 18th century violins including a Stradivarius.
Buckminster Fuller's prototype Dymaxion house.
Igor Sikorsky's prototype helicopter.
Fokker Trimotor airplane that flew the first flight over the North Pole.
Bill Elliott's record-breaking race car clocking in at over 212 MPH at Talledega in 1987.
The museum features an IMAX Theater, which shows scientific, natural, or historical documentaries; as well as major feature films.

Greenfield Village is a living museum with the actual homes of Thomas Edison, Henry Ford, Noah Webster, and more. Entering Greenfield Village is like stepping into an 80-acre time machine. It takes you back to the sights, sounds and sensations of America's past.
There are 83 authentic, historic structures, from Noah Webster's home, where he wrote the first American dictionary, to Thomas Edison's Menlo Park laboratory, to the Wright brothers' bicycle shop to the courthouse where Abraham Lincoln practiced law. The buildings and the things to see are only the beginning.
There's the fun stuff, too.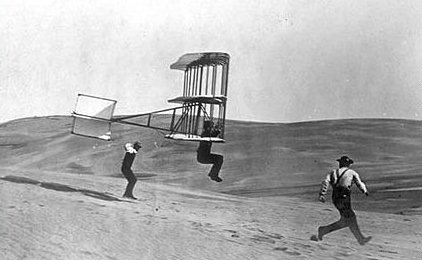 In Greenfield Village, you can ride in a genuine Model T or "pull" glass with world-class artisans; you can watch 1867 baseball or ride a train with a 19th-century steam engine. It's a place where you can choose your lunch from an 1850s menu or spend a quiet moment pondering the home and workshop where the Wright brothers invented the airplane. Greenfield Village is a celebration of people - people whose unbridled optimism came to define modern-day America.
---
3.) Wednesday, September 16th - $40 Early lunch on your own at the hotel or nearby restaurants of your choice. - 11:45 AM departure for a cruise on the Detroit River and the Motown Museum, home of Motown Records!
---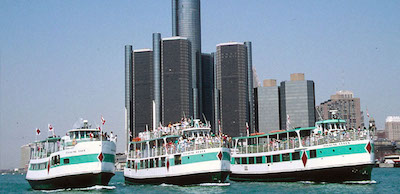 Diamond Jack's River Tours takes us on a two hour narrated tour of the scenic skylines of Detroit and Windsor, Ontario, Canada.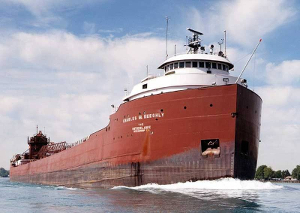 We will enter Canadian waters but don't worry, passports are not required! Along the way we will pass the giant Great Lakes freighters. Snacks and drinks are available on board.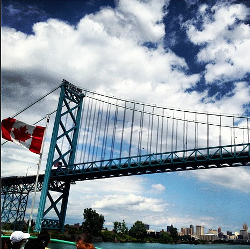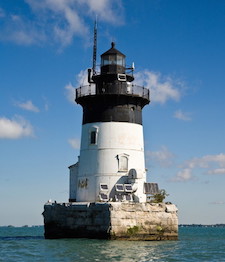 ---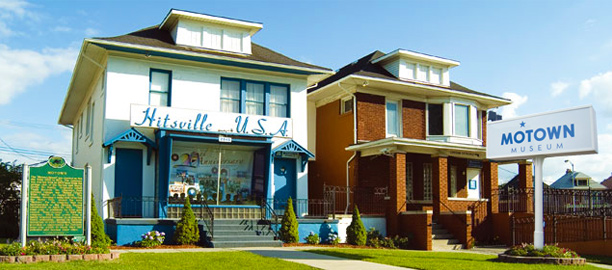 When Berry Gordy founded Motown Records in 1959, few people could have predicted how it would soon transform the entire music industry. Gordy, purchased the two-family flat located at 2648 West Grand Boulevard in Detroit in 1959.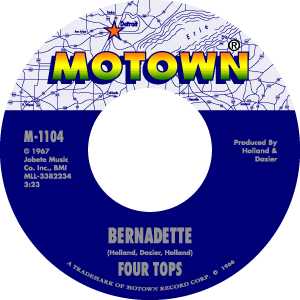 While Mr. Gordy and his family lived in the upper unit, the building's first floor was transformed into Hitsville U.S.A., home of the renowned Studio A and Motown Records' headquarters until 1968.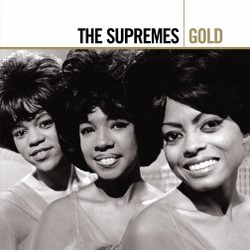 Gordy had a remarkable ear for talent and within months, he joined forces with many of the greatest songwriters, musicians and singers in the country. Before the first year was over, Motown scored their first major hit with Barrett Strong's "Money (That's What I Want)." Over the next several decades, the tiny label dominated the airwaves and album charts, launching the careers of everyone from Diana Ross to Michael Jackson, The Four Tops, Marvin Gaye, The Isley Brothers, Smokey Robinson and the Miracles, Stevie Wonder, Lionel Richie and many more. From its inauspicious beginning in a two-family flat in Detroit, Motown Records grew to become the world's largest independent record company by 1979.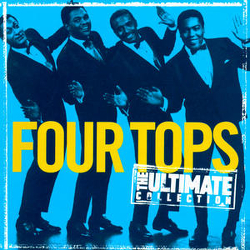 The Motown Museum might not have come into existence if Esther Gordy Edwards, Berry's sister and former Motown Records Senior Vice President, had not maintained an office at Hitsville U.S.A. after Motown's headquarters moved to Los Angeles in 1972.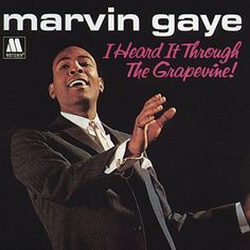 ---
4.) Thursday, September 17th
9:00 AM Business meeting for all shipmates. 9:00 AM Ladies Bloody Mary Bingo
6:00 PM Banquet buffet tonight - $ 45
The rest of the day will be free to explore on your own. Swim in the indoor heated pool or relax in the whirlpool or sauna. Or explore some of the area's many attractions including:
The Henry Ford Estate - Fairlane (26 miles from hotel) Fair Lane, located in Dearborn, Michigan, was the beloved family home of Clara and Henry Ford from 1915 until 1950. Upon Clara's death in 1950, it was given to Ford Motor Company, and in 1957 Ford donated the estate and the farmlands to the University of Michigan for construction of the Dearborn campus. In 1966, it was among the first in the nation to receive the prestigious designation as a National Historic Landmark from the National Register of Historic Places. The historic buildings on the Estate are currently closed for restoration. However, the grounds remain open year-round for the general public to explore and discover. Maps highlighting walking loops of the Jens Jensen landscape are available on site. The grounds are open Monday through Friday until 6 p.m. Admittance to the grounds and on-site parking are free of charge.